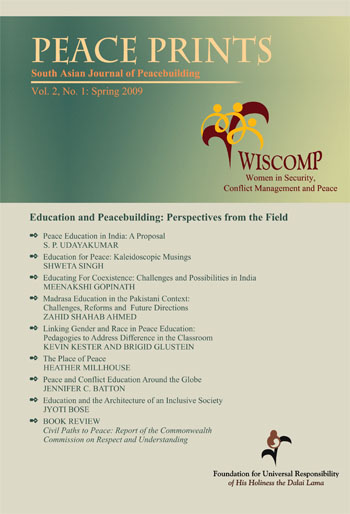 »
Editorial
Seema Kakran Read More...
»
Peace Education In India: A Proposal
S. P. Udayakumar Read More...
»
Education for Peace: Kaleidoscopic Musings
Shweta Singh Read More...
»
Educating for Coexistence: Challenges and Possibilities in India
Meenakshi Gopinath Read More...
»
Madrasa Education in the Pakistani context: Challenges, Reforms and Future Directions
Zahid Shahab Ahmed Read More...
»
Linking Gender and Race in Peace Education: Pedagogies to address difference in the classroom
Kevin Kester and Brigid Glustein Read More...
»
The Place of Peace
Heather Millhouse Read More...
»
Peace and Conflict Education around the Globe
Jennifer C. Batton Read More...
»
Education and the architecture of an inclusive society
Jyoti Bose Read More...
»
Book review
Civil paths to peace: Report of the Commonwealth Commission On respect and understanding
Reviewed by Ankita Pandey Read More...
About WISCOMP
WISCOMP has been a pioneer in initiating the discourse on women, peace, and security in South Asia. It was at the forefront of engaging with these issues, well before they found articulation in the UN Security Council Resolution 1325 in October 2000. WISCOMP's work has converged with later international articulations on the role of women in building peace and security. Its pioneering efforts have yielded a robust network across borders and boundaries that highlight the leadership of women in the areas of peace and security—a space that was hitherto not fully encouraging of the participation of women.
WISCOMP draws on innovative and experiential pedagogies that synergize research, training, and practice. These are used to build linkages between individuals who work in the fields of education, gender studies, peacebuilding, public policy, law, and the creative arts. Its practice builds on a body of research that covers over 200 scholarly publications, reflecting cutting-edge ideas from the areas of international relations, displacement, climate change, and their impact on gender.
It is an initiative of the Foundation for Universal Responsibility, which was established with funds from the Nobel Peace Prize awarded to His Holiness The Dalai Lama in 1989. WISCOMP has drawn into its fold several vibrant regional networks that strive to translate the normative imperatives of UN global compacts such as the SDGs (Sustainable Development Goals), CEDAW (Convention on the Elimination of All Forms of Discrimination Against Women), and UN resolutions that impact on women's roles in building peace, promoting justice, restoring rights, and fostering empathy.
For more information, visit
www.wiscomp.org
Address: Core 4 A, Upper Ground Floor, India Habitat Centre, Lodhi Road, New Delhi – 110003, INDIA
Phone: +91 11 24648450, 24651606, Email: wiscomp2006@gmail.com
© WISCOMP, Women in Security, Conflict Management and Peace