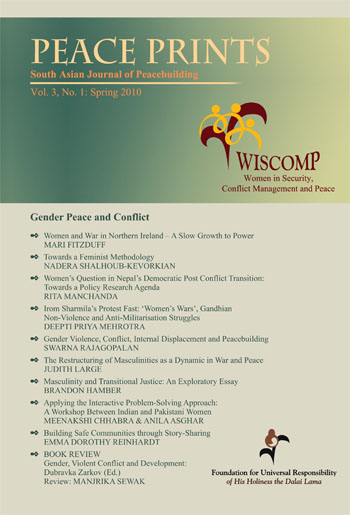 »
Editorial
Sumona DasGupta Read More...
»
Women And War In Northern Ireland - A Slow Growth To Power
Mari Fitzduff Read More...
»
Palestinian Women and the Politics of Invisibility:Towards a Feminist Methodology
Nadera Shalhoub-Kevorkian Read More...
»
Women's Question In Nepal's Democratic Post Conflict Transition : Towards A Policy Research Agenda
Rita Manchanda Read More...
»
Irom Sharmila's Protest Fast: 'Women's Wars', Gandhian Non-Violence And Anti-Militarisation Struggles
Deepti Priya Mehrotra Read More...
»
Gender Violence, Conflict, Internal Displacement And Peacebuilding
Swarna Rajagopalan Read More...
»
The Restructuring Of Masculinities As A Dynamic In War And Peace
Judith Large Read More...
»
Masculinity And Transitional Justice: An Exploratory Essay
Brandon Hamber Read More...
»
Applying The Interactive Problem- Solving Approach : A Workshop Between Indian And Pakistani Women
Meenakshi Chhabra & Anila Asghar Read More...
»
Building Safe Communities Through Story-Sharing
Emma Dorothy Reinhardt Read More...
»
Book Review
Gender, Violent Conflict And Development: Dubravka Zarkov (Ed.)
Reviewed by: Manjrika Sewak Read More...
About WISCOMP
WISCOMP has been a pioneer in initiating the discourse on women, peace, and security in South Asia. It was at the forefront of engaging with these issues, well before they found articulation in the UN Security Council Resolution 1325 in October 2000. WISCOMP's work has converged with later international articulations on the role of women in building peace and security. Its pioneering efforts have yielded a robust network across borders and boundaries that highlight the leadership of women in the areas of peace and security—a space that was hitherto not fully encouraging of the participation of women.
WISCOMP draws on innovative and experiential pedagogies that synergize research, training, and practice. These are used to build linkages between individuals who work in the fields of education, gender studies, peacebuilding, public policy, law, and the creative arts. Its practice builds on a body of research that covers over 200 scholarly publications, reflecting cutting-edge ideas from the areas of international relations, displacement, climate change, and their impact on gender.
It is an initiative of the Foundation for Universal Responsibility, which was established with funds from the Nobel Peace Prize awarded to His Holiness The Dalai Lama in 1989. WISCOMP has drawn into its fold several vibrant regional networks that strive to translate the normative imperatives of UN global compacts such as the SDGs (Sustainable Development Goals), CEDAW (Convention on the Elimination of All Forms of Discrimination Against Women), and UN resolutions that impact on women's roles in building peace, promoting justice, restoring rights, and fostering empathy.
For more information, visit
www.wiscomp.org
Address: Core 4 A, Upper Ground Floor, India Habitat Centre, Lodhi Road, New Delhi – 110003, INDIA
Phone: +91 11 24648450, 24651606, Email: wiscomp2006@gmail.com
© WISCOMP, Women in Security, Conflict Management and Peace