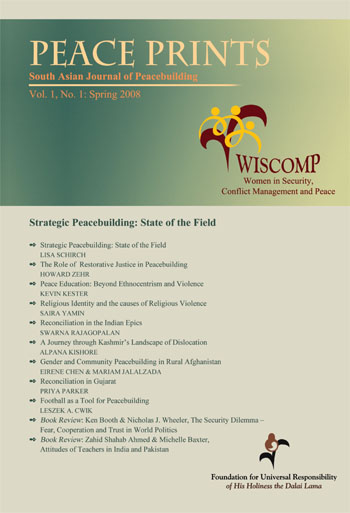 »
Editorial
Ms. Anna-Kaisa Heikkinen Read More...
»
Strategic Peacebuilding: State of the Field
Lisa Schirch Read More...
»
Doing Justice, Healing Trauma: The Role of Restorative Justice in Peacebuilding
Howard Zehr Read More...
»
Developing Peace Education Programs: Beyond Ethnocentrism and Violence
Kevin Kester Read More...
»
Understanding Religious Identity and the Causes of Religious Violence
Saira Yamin Read More...
»
Reconciliation in the Indian Epics
Swarna Rajagopalan Read More...
»
"Who will tell them this land belongs to your father when I die?" A Journey through Kashmir's Landscape of Dislocation
Alpana Kishore Read More...
»
Gender and Community Peacebuilding in Rural Afghanistan
Eirene Chen and Mariam Jalalzad Read More...
»
Reconciliation in Gujarat
Priya Parker Read More...
»
Football as a Tool for Peacebuilding
Leszek A. Cwik Read More...
»
Book Review
The Security Dilemma: Fear, Cooperation and Trust in World Politics
Reviewed by Swapna Kona Read More...
»
Book Review
Texts and Contexts: Attitudes of Teachers in India and Pakistan
Reviewed by Rene Wadlow Read More...
About the Editor(s)
Anna-Kaisa Heikkinen is Second Secretary at the Embassy of Finland, New Delhi. Her responsibilities at the Embassy include the follow-up of Indian political affairs, development questions, press and cultural affairs as well as the follow-up of Nepal, Bhutan and Bangladesh. Ms. Heikkinen has an M. Soc. Sc. degree (International Relations) from the Tampere University, Finland. She has been serving at the Finnish Embassy in Delhi since June 2004. In August 2008, she begins her next posting in Moscow.

Contact:
anna-kaisa.heikkinen@formin.fi
About WISCOMP
WISCOMP has been a pioneer in initiating the discourse on women, peace, and security in South Asia. It was at the forefront of engaging with these issues, well before they found articulation in the UN Security Council Resolution 1325 in October 2000. WISCOMP's work has converged with later international articulations on the role of women in building peace and security. Its pioneering efforts have yielded a robust network across borders and boundaries that highlight the leadership of women in the areas of peace and security—a space that was hitherto not fully encouraging of the participation of women.
WISCOMP draws on innovative and experiential pedagogies that synergize research, training, and practice. These are used to build linkages between individuals who work in the fields of education, gender studies, peacebuilding, public policy, law, and the creative arts. Its practice builds on a body of research that covers over 200 scholarly publications, reflecting cutting-edge ideas from the areas of international relations, displacement, climate change, and their impact on gender.
It is an initiative of the Foundation for Universal Responsibility, which was established with funds from the Nobel Peace Prize awarded to His Holiness The Dalai Lama in 1989. WISCOMP has drawn into its fold several vibrant regional networks that strive to translate the normative imperatives of UN global compacts such as the SDGs (Sustainable Development Goals), CEDAW (Convention on the Elimination of All Forms of Discrimination Against Women), and UN resolutions that impact on women's roles in building peace, promoting justice, restoring rights, and fostering empathy.
For more information, visit
www.wiscomp.org
Address: Core 4 A, Upper Ground Floor, India Habitat Centre, Lodhi Road, New Delhi – 110003, INDIA
Phone: +91 11 24648450, 24651606, Email: wiscomp2006@gmail.com
© WISCOMP, Women in Security, Conflict Management and Peace